12-02-2007
Bowery Ballroom - New York, USA
A STRAIGHT LINE TO THE TOP
By Paul Letendre
PaulLetendre@hotmail.com
February 12th, 2007
New York City's Bowery Ballroom
After an extensive break following their sold-out Across The Night world tour, Silverchair have finally returned to New York City's Bowery Ballroom for their first international appearance in over three years. Much to the band's surprise, the gig sold out without any advertising beyond the band's official website the day tickets went on sale. It would be an understatement to say that North American Silverchair fans are anticipating their first glimpse into the world of the band's upcoming new album, 'Young Modern'.
When the band walked on stage to what sounded like an increasing heart beat, the crowd surged forward to get as close to their rock heroes as possible. Unexpectedly, the band chose the 'Diorama' favorite 'Without You' to open their set for the first time. Fans recite the song word-for-word at a maximum volume that brings a smile to the face of frontman Daniel Johns. "I'm not nervous anymore", Johns says to the crowd after the band previews one of their newest tracks, 'Young Modern Station', a pounding rock/dance number. But it was the sold-out sing-a-long to Silverchair's latest single 'Straight Lines' that indicates the potential of this band reclaiming their success on American soil.
The band have recaptured the raw spirit of a rock band on stage, and are clearly confident in the musicianship they share together. Drummer Ben Gillies and Bassist Chris Joannou smile often and interact with Johns during regular improvistations that the band is known to do during songs like "Emotion Sickness", and "The Door".
Daniel Johns says he enjoy's playing live more than ever these days; a statement hard to question after hearing an on-stage joke he makes about a koala bear and a lizard smoking reefer together. He chats comfortable with the crowd, and when one fan shouts for a hand-shake right before the band launched into 'The Door', Johns says he'll shake his hand, but first he needs to play a few kick ass solos. After a pogo-fest ensues to the live favorite from the band's Freak Show album, and a few minutes of playing his guitar Hendrix-style with his teeth, Johns keeps his word. The fans admiration and dedication seems to have strengthen during the band's temporary absence, as indicated by the calls of "Welcome back to America!" in between songs.
The highights are far too many to count, but the shining moment of the show comes mid-set with the unexpected live return of the Diorama centerpiece, 'Tuna In The Brine'. Walls of strings are replaced by the happiest piano man alive in the upper right corner of the stage, Paul Mac. Johns' long-time friend and collaborator on their new group The Dissociatives contributes Kraftwerk-inspired noises to the band's new music and may be a regular face on the band's future tour schedule.
With such a good number of solid and ear-candy catchy material, it seems the band could have chosen a more well-rounded song from their later catalog to end their set with than their 1997 adolescent hit 'Freak', but the crowd may have argued with such a statement given their reaction and demand for an encore (over three consecutive "Silverchair" chants later).
Before bidding farewell to the audience, the band debuted another new song titled 'If You Keep Losing Sleep' - a 'Live And Let Die' style number with multiple tempo shifts featuring orchestral arrangements courtesy of legendary Beach Boys 'Smile' collaborator Van Dyke Parks. 'The Lever' served as the final song of the night, with a drawn out stoner rock ending and some of drummer Ben Gillies best fills of the night.
In the current music scene that is dominated by less than second best songwriters and pop stars who spontaneously shave their heads, American music fans (and the players of the industry) know it's time for a change. Up until now, it's been a serious question as to who has got what the chops that put the flavor back in your mouth. The answer was served tonight at the Bowery Ballroom on a 'silver' platter. Yes, it's true. The band is back together, and their flattering new album 'Young Modern' may just fill the void that's been burned in the center of the American music industry for far too many years. In America, Silverchair really is "walking in a straight line", right to the top of the charts.
(Set List)
Without You
Emotion Sickness
The Greatest View
World Upon Your Shoulders
Across The Night
Young Modern Station
Ana's Song (Open Fire)
Straight Lines
Tuna In The Brine
Luv Your Life
The Door
Don't Wanna Be The One
Mind Reader
Freak
(Encore)
If You Keep Losing Sleep
The Lever
---
The Bowery Ballroom, New York City
By Natalie Werve
Despite my complete and continual devotion to silverchair, which began with Frogstomp in 1995, this was my first silverchair concert. I live near Atlanta, Georgia, and the last time silverchair played here I was only in eighth grade and, much to my despair, my mother wouldn't let me go.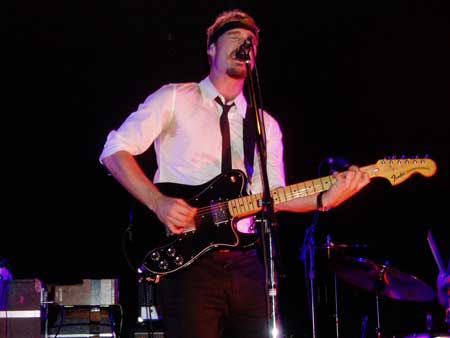 When I saw the concert announcement here on Chairpage, I knew I had to go, so I counted down the minutes with my credit card in hand and at 12:02PM I was staring at my ticket confirmation in a state of shock and disbelief. As soon as I could think clearly again, I remembered the whole traveling-to-New York part, and immediately booked plane tickets and a hotel. Seeing silverchair was worth every penny of it! (I was unbelievably lucky and also got Webster Hall tickets.)
I was nervous and excited the entire day of the concert. Aside from greatness, I really didn't know what to expect, but I enjoyed every minute of eager anticipation and joyful discovery. I knew that Daniel (my inspiration for life) would be on the left so once inside I made my way over and managed to find a great spot, behind only 5 or 6 people. The venue was surprisingly small, promising an intimate and remarkable show, which made me feel extra special and lucky to be there. I was so excited I actually started shaking!!
I began talking with some people around me and my usual discomfort in social situations seemed to almost melt away as I realized how much we all shared. I felt strange yet wonderful sharing the excitement while discussing favorite songs, hopes for an American tour, and fond silverchair-related memories. I was already having a great time simply mingling with other silverchair-lovers.
The opening band, Army of Me, gave an awesome performance, which I really enjoyed, despite growing impatience to see my band. After that I could hardly stand waiting as much equipment and seemingly infinite cords were moved around for a time span approaching eternity (maybe thirty minutes).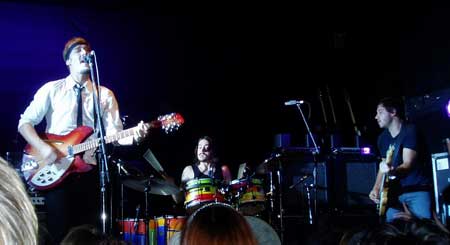 In the darkened room my anticipation was further exaggerated by an accelerating drum beat. And then the moment finally came! My heart leapt into my throat as Chris, Ben, and Daniel walked out onto the stage. The crowd immediately pushed forward, but I didn't mind being squashed up closer to the stage! As the first notes of Without You floated out I became completely enthralled, trying to take in the enormity of the whole experience.
At the start of Emotion Sickness a completely indescribable feeling surged through me. Seeing Daniel right in front of me and hearing his pure and beautiful voice singing the words which so well express the inexpressible was overwhelming. I started crying and couldn't stop through the entire song.
The rest of the show, which didn't fly by so quickly as I had feared it would, was just really fun. I fully enjoyed each and every moment of the experience. The Greatest View, World Upon Your Shoulders, and Across the Night were absolutely magnificent and sounded even better than on the CD, which I don't believe can be said about many bands/musicians. Not only that, but in the first five songs alone, Daniel took on an enormous vocal challenge, yet his voice never wavered and neither did the sound of the entire band. There was SO much music!!!
Next came Young Modern Station, a fun and different song, which still fulfilled the level of excellence which silverchair constantly has achieved and succeeded. Then Ana's Song, performed with great passion from Daniel. Straight Lines brought back that fun and forward feeling, and all the guys were having a great time with it. Paul Mac was giddy the entire time and definitely having the time of his life.
Throughout the entire show, Ben's eyes were so bright and alert, constantly attentive to Daniel and Chris. With some of the many "looks" Ben has had, particularly his current one, I might not recognize him but for those eyes.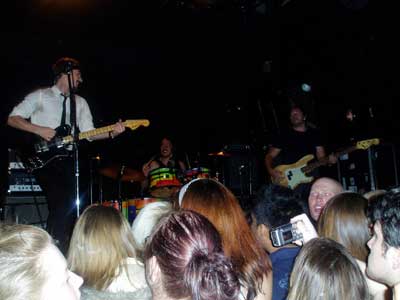 The guys all seemed so mature in their youth, but with this new music they really look young (as they actually are!). Seeing silverchair in person: happy, energetic, and rather carefree, really brought out the meaning of the new album title "Young Modern". I definitely love the very different and wonderfully positive direction they chose for this album. The crowd clearly agreed, singing along to every song, despite the few downers who apparently hadn't noticed the past 10 years or so, and showed up wanting to hear all of Frogstomp/a grunge band.
Tuna In the Brine was epic and really can't be explained more completely or deservingly than that. Luv Your Life was really fun because I sort of felt like Daniel was singing "I luv your life" to me, and he seemed deeply touched to hear the entire audience collectively and loudly sing that phrase back to him (proving that America DOES care!!!).
Between songs Daniel talked a good bit, told us a joke, and even had us sing Happy Birthday to Chris. I'm not sure if Daniel realized that most of us knew it wasn't Chris' birthday (a few people actually shouted out "it's not his birthday"), but he was having fun with it so I sang, along with most everyone else. Chris was clearly enjoying himself too, constantly moving all over his "corner" of the stage, and adding a ton of energy to the show. Sometimes called "the quiet one", he definitely didn't need to talk to be heard!
I was glad to hear a couple songs off of Freak Show, because I grew up listening to silverchair and have memories associated with each album. The Door was so awesome and Daniel actually played the guitar with his teeth, which I didn't even know was possible! He just never ceases to amaze me. Freak was great too and had a lot of energy, in sort of a happier way though. Although the same songs, they definitely had a new feel, and it was weird, but great!
I loved all of the new songs and I absolutely cannot wait for Young Modern to come out! Mindreader and If You Keep Losing Sleep really stuck in my head, and I want to sing along to my humming! I suppose it was good that no one knew the lyrics because I'm afraid our singing was rather detrimental to Daniel's vocal perfection. Sorry!
I was thrilled to hear The Lever, one of my favorites, which rounded out their vast display of diversity, shown in 16 songs (but felt like 100). Chris is absolutely vital to this song and he did not disappoint! They rocked so hard, reminiscent of "the old" silverchair, while showing off their unique talent: each individual shined, but the group as a whole made it happen, proving Ben and Chris' absolute necessity. This brilliant finale left me with a great feeling of energetic excitement that lingered long after it ended.
I don't think I could have asked for anything more! They definitely put on a truly amazing performance, giving us everything they had! After silverchair left the stage, I just stood there, still basking in what was definitely the highlight of my life.
I just want to say to silverchair: Thank you so much for coming to the U.S. and playing such a great show! I hope you will come back, because listening to my Diorama CD at home has been rather anticlimactic, and because now that I have seen how amazing you are live I love you more than ever! (Which I didn't even think was possible.)
---
Silverchair Live at the Bowery
By Sara Schoenleber
"What do you mean you won't switch spots with me? You're like, 6 feet tall and I'm only 5'1. That's really mean. Don't be a jerk." I'm not usually this manipulative, but for this occasion I'll do what I need to do. I have only one person left between me and the stage and I'm not going to let him stay there.
I'm at the Bowery Ballroom in NYC, waiting to see Silverchair, the band I've been waiting almost ten years to see live. The opener band had just finished and I had no idea who they were, what they were called, or what they even sounded like. I'm sure they were great, but only one band matters in my world. This isn't a concert; it's a pilgrimage.
This February, the trio led by lead singer/guitarist/songwriter Daniel Johns played a mini-tour of North America with two shows each in New York, Toronto and LA. All six shows sold out. This came as a surprise to the band because while they are a household name with an enormous fan base in their home country of Australia, their popularity in the US has steadily fallen off with the past several albums. Diorama, hailed as their masterpiece, only sold 77,000 copies. The album is so good, though, that the 77,000 people who bought it are now probably the most devoted fans you could imagine.
Their next album, Young Modern, with an Australian release date of March 25 and a US release date still in the works, is poised to be the commercial success Diorama never got to be. This new album is the occasion for their recent tour, and the reason for the packed house of hundreds of fans chanting the band's name. The Bowery show marks their first performance on United States soil since Neon Ballroom came out in 1999. Some of the people standing in the pit with me came from as far as Indiana and South Carolina to see a show eight years in the making.
A few lights finally go up, and the backlit silhouettes of three bandmates emerge to explosive cheers. Grown up, groomed, and in command of the stage, they are virtually unrecognizable from the skinny grunge kids of the Frogstomp days. Drummer Ben Gillies takes his seat at the drums and holds his sticks ready. Bassist Chris Joannou, who could probably bench press the other two, looks over the ecstatic audience and just smiles. Daniel Johns, hundreds of people screaming his name, keeps his eyes to the floor while he sets up his electric guitar.
Then, a fourth musician comes out. When playing shows they usually add a keyboardist to recreate the rich, sweeping musical lines originally recorded with an orchestra. This time it is dance musician Paul Mac, Johns' longtime collaborator whom he described in a recent interview as his "musical soulmate." Mac is grinning so widely he is about to pull a muscle in his face.
They glance at their setlists, glance at each other, then dive immediately into The Greatest View, a soaring single from Diorama. The crowd nearly drowns out Daniel by singing along. In between The Greatest View and Emotion Sickness, an old favorite from Neon Ballroom, a crazed fan standing next to me holds up the devil horns and screamed "YOU FUCKING ROCK!" Daniel notices and flashes him a shy smile, betraying a hint of the angelfaced, shaggy haired 15-year-old grunge kid. He replies into the microphone, "No, you fucking rock."
Their setlist took typical prerelease form: mostly songs from the last album, a handful of early songs and one or two new songs. The band were most visibly excited about the new singles from their new album. Johns said in several interviews that he wanted Young Modern to be an album people can dance to, an intention which was evident in their performance. The beats and melodies of the new singles had more of a presence than the lyrics or instrumental parts. The new songs introduced in the show reveled in big statements whereas their previous work found strength in its intricacies. They played a healthy total of fourteen songs plus an encore, only taking a few breaks to change instruments.
After the show I step outside to process the euphoria of the last two hours and wait for the boys to make their exit. It's fifteen degrees and some guy is trying to have a conversation with me. I notice neither of these things and my eyes stay on the door. Sooner than I expected, the doors open. A roadie in work clothes goes out to the street to flag down a cab. I hold my breath and Daniel, Ben and Chris walk out, looking like the past two hours never even happened. They head straight for the cab's open door and I run after them. They sit in the backseat and I look in the cab's open window. All of a sudden, I'm inches away from Daniel's face. Like a teenage girl in the 60s meeting her favorite Beatle I blurt out the only thing I can think of: "I love you Daniel!" Daniel looks at me and we have a moment of eye contact that is probably more magical for me than it is for him. He gives me a chuckle and says "Well thanks! I love you too."
I don't remember anything that happened after that. Buy their new single. You'll understand.
---
Silverchair
February 12, 2007
Bowery Ballroom, NY, NY
By David Salomon
This was my first, and long awaited, Silverchair concert. The feeling in the small, intimate venue was electric. I was in the balcony, not front row disappointingly, but the view from anywhere in Bowery seemed to be better than decent. After the very impressive supporting band, Army of Me, I, and everyone else could hardly contain ourselves. I drove up from Washington D.C. with my girlfriend just for the show and the anticipation to see this epic, vastly underrated band, was killing us. Finally, the lights went out, the crowd erupted, and Silverchair took the small stage. The concert: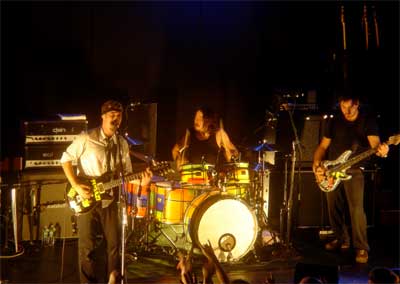 Without You – Without a word, the band, including Paul Mac, broke out into this solid opening song. The acoustics were amazing and the band sounded intense and crystal clear in the small, once vaudeville, theatre.
Emotion Sickness – With no break in between songs, the band busted into this heartfelt version. Like the opening song, this one rocked the Bowery, blowing everyone away with the pure emotion and its genius arrangements.
The Greatest View – Again, the band seamlessly transitioned into this song with only a quick guitar change from the black Les Paul to a Rickenbacker.

World Upon Your Shoulders – Another guitar change, a quick word from Daniel, and straight into this song. Daniel seemed to become more comfortable with each song. After the explosive bridge, the fourth song wound down and the crowd went crazy. Daniel thanked the audience and seemed to be delighted with our response to the band's first American performance in nearly 4 years. Finally, Daniel addressed the crowd with some anecdotes and thanks.
Across The Night – Acoustic guitar for the first track off of Diorama. Stripped down without the colorful orchestra, but it still was a great live version and just a brilliant song, even incorporating a switch from acoustic to electric guitar mid-song
Young Modern Station – A new, raw, offbeat, different song
Ana's Song – An old classic that was a surprise, but timelessly appreciated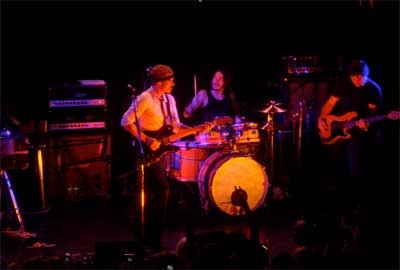 Straight Lines – As Daniel strapped on his red Gibson SG, the notes of the first single off the upcoming record resonated. 'Whimsically commercial' in the respect that it is unbelievably catchy and simple, but at the same time, duplicitously brilliant, epic, and as always, somehow void of the 'cheese' factor. I have listened to it over and over, before the show and since. Listen to it. You'll know what to do. Well done
Tuna In The Brine – "A song about fish'" as Daniel introduced it as he picked up his acoustic guitar again. Extraordinary to hear live. Brilliant. It is clearly Daniel's favorite song off of Diorama, and mine as well, and anyone with any musical appreciation can instantly tell why. It is a musical masterpiece. Listen to it and you'll know what I mea
Luv Your Life – A soft, simple song that they have the ability to turn epic and make everybody in the room think
The Door – Back to electric guitar for this groovy rocker including a sweet guitar solo with Daniel's teeth on his old school PRS
Mind Reader – An upbeat, unique new song that got the place jumping with Daniel's custom black Telecaster
Freak – A more mature, updated version with great improvisational guitar work. After its finale, the band left the stage, which was followed by the crowd's cries for more.
------------------------------------------------
If You Keep Losing Sleep – The band reemerged with new drinks in hand a few minutes later and with Daniel's other custom, natural Telecaster, broke into this really dynamic, new song that has some 'Dissociatives' elements
The Lever – A heavy, rockin' song that left the crowd pumped, especially with a sweet guitar solo including Daniel on his knees lying all the way back on the stage. Quite a showman. The concert then unfortunately ended
*Sidenotes:
Some girl got on stage in the first half of the show, but I cannot remember during which song it happened. Daniel did not seem pleased but she unfortunately thought she was a star. She danced behind Daniel and touched him while he was playing. She was sloppy. It was annoying. Have some respect.
Daniel told a joke in between songs, right before Straight Lines I think, about a Kuala and a small lizard smoking a joint. It was enjoyable.
Someone yelled out 'Dissociatives' after Daniel remarked to the crowd that Paul Mac had gladly joined them. Daniel jokingly responded, "Oh, one of the 15."
Overall, the concert was well worth the 10 hours total driving and the $150 for 2 tickets on eBay. I would do it again in a heartbeat. It was spectacular to see this legendary, simply epic band in such an intimate setting. Daniel' svocal performance was incredible and kept the audience on our toes as he improve with some different melodies and runs in a few places. His guitar playing really impressed me. He is a musical prodigy in my book. There is something about this band that is unmatched. If Silverchair ever reads this – Welcome back to an unappreciative America that is finally getting it. On behalf of this country, and fans everywhere, never stop.