09-05-2007
Enmore Theatre - Sydney, Australia
Silverchair Live @ The Enmore
By Belinda Trimboli
Seriously people I cannot wipe the smile that is cemented on my face right now…it actually hurts.
Tonight I had the privilege, nah the honour of witnessing possibly THE BEST live show I have ever seen! Tonight I saw Silverchair!!!!!
I must say I was even lucky to have gotten tickets so every moment was like 'magical gold' – why? Cause it was bloody unbelievable that's why!
My mate Emily and I arrived to hear a few songs by the support act, "Dappled Cities" they were pretty cool but the anticipation was too high and I couldn't really get into them and give them the appreciation they deserved. It was so funny after they left the stage and a few minutes had passed the eager crowd that surrounded me began to cheer and applaud to suggest that the 'chair were stepping on stage…I swear my heart skipped a beat and even though this was all premature – I knew that it was for real this time, I can admit it to you now…I am in love with the band!
So soon enough Silverchair came out on stage – let me also point out that I have had bronchitis for the past week so my vocal ability was very poor and I didn't care how much I sounded like a little boy becoming of age I had to scream as best as I could and by -god I gave it a far bloody bash! The whole time wishing I could do that cool finger whistle thing.
The kids started off with Young Modern Station, which I was informed by my mate Sam that this was their opener both nights that they played in Perth and it certainly didn't disappoint. Now I'll also point out that I was in the 'sit down' section unusual for the gal who likes to show her appreciation by bopping/dancing around…but I do believe that this was a really nice way of actually being able to see the entire stage and the entire band and it was also brilliant to be able to pick out who I wanted to look at whenever I wanted to look at them, as opposed to leaving it to chance because of some tall arsehole who stands directly in front of me and only lets me see whatever the view is for his left/right shoulder!
Next we had "Low" followed closely by "Without You", now I can't remember the exact order of the other songs off the top of my head but I will say that the couple of songs that I was secretly hoping but secretly secretly trying not to think about just in case they didn't actually play it were actually played.
When Daniel announced that 'this next song is about a fish' I knew they were about to play "Tuna In The Brine" and I was super freaking exciting, one of my fav's from Diorama. The next holy shit I'm so glad they played that song, was the very first song that Silverchair had captured my heart with which is, "Emotion Sickness" (Neon Ballroom) a very moving and broody song, but what was really interesting was that even though it is has a moody/dark feel, when they played it tonight it had a bizarre beautiful optimism to it, it was quite strange but so satisfying at the my mate Same time.
Now for those of you who have not had the honour of seeing Silverchair perform live will not be aware of the fact that Daniel Johns is a man of very few words, the beginning of tonight was no exception…until IT happened! But I would also like to point out that when this very unique occurrence occurs it's like audio gold!
He admitted that he didn't have much to say but hey 'what can you do about it'? - Something Daniel and something was exactly what he did. Daniel informed us that he'd just won Best Front Man from the Jack Daniel Awards so he thought that he should offer some sort of 'front man' behaviour and dazzled us with a joke accompanied by Mr Paul Mac on keys and Ben Gillies on percussion. The joke was about a koala and a lil lizard, cute squeaky voices were made – a joint was referenced it was beautiful!
More fabulous songs were played mostly from the "Young Modern" and "Diorama" albums which were Okay by me! There was the infamous "The Door" spliced in for good measure which I have always enjoyed live – even when I was getting crushed at the Adelaide BDO. But then it happened, the next secret magical song was sung… "Those Thieving Birds (part 1), Strange Behaviour, Those Thieving Birds (part 2)". Holy Shit I was absolutely freaking delighted and when that line 'if this street air aint up to par, I'll take my clothes and I'll take this strange behaviour' belted out I couldn't help but show my appreciation and let out a knee jerk reaction/remark 'I love you guys' – but I don't think they heard me.
Then we were blessed with 'If You Keep Losing Sleep' with the now infamous (well by My mate Sam and me) line – 'You're a tombstone in the mud, playing twister in a bubble again' was just bloody outstanding. Then the next musical gem was from "Mind Reader" containing arguably the world's Best lyric… 'You're not a private detective take off your telephone shoes.' Absolute gold right there and this time I couldn't help but let out a 'omigod I love you guys' and shed a happy tear which I wiped away from under my glasses, it was such brilliance. The other fabulous element that was up on stage were the 3 horns, trumpets or whatever they were that really brought to life and made some songs (i.e. 'Greatest View') jump from the CD to your ears live at the Enmore…fan-bloody-tastic.
Okay the only thing that I will 'pick on' is one song choice that I'm quite confused about (but because I am aware of the answer I can let it slide). Okay the song is "Freak" from Freak Show, the song seems completely out of place and its almost like we've travelled back in time, but you cannot erase my memory. Right, so my initial thought about this song choice was that if this were a good Teen Movie, then this song would represent the appearance of the "Token Black Guy". Like you know he has to appear sometime soon even though it doesn't really help the story along; which is how I felt when they played 'freak'.
I did hear from Mr Johns that he doesn't particularly like the song but said it always seems to get a good response from the crowd and tonight was certainly no exception. I would guess that all the 'I live in the past and only like silverchair's old stuff' people were really into it, "body and soul I'm a Freak" indeed – I think they play that song to keep the old fans happy for 3minutes and 48 seconds. Don't get me wrong people I appreciate the song, but think if they want to play faster/rockier songs then something like 'The Closing" or "No Association" from 'Freak Show' would be brilliant for them to play live and be a real testament to the old fans who like – or should've liked more then just there singles!
I knew the night was heading to a close when Daniel announced that they were playing one of the 'best written rock songs' – quoting some other guy, which for a split second I thought they may play 'tomorrow' but I quickly came to my senses and realised it was 'Straight Lines'. Then with a little shot of scotch amongst friends by the band that is, we were into the finale. They had not played 1 of my secret fantasy songs I wanted to hear, they played something like 'Mind Reader' then went straight into 'The Lever' which I knew it was the beginning of the end, again my mate Sam informed me that they closed the show both nights in Perth with this song so alas I didn't get to hear "All Across The World" which I think they played on the second night in Perth, which did upset me a teeny weenie bit but the night was way too spectacular overall to be too down about it!
It was also really nice to know every single song that they played, I love that feeling. They played a couple of B-Sides from the Straight Lines single. The rock melody that is "Don't Wanna Be the One" a Midnight Oil cover and also "Sleep All Day" ("which is a song about not sleeping, go figure") a demo on the single which had a nice little different arrangement that really brought it to life when they played it.
Look I was just absolutely blown away by the band; I did spend a lot of time looking at Mr Gillies and his drum bits as I have a new found appreciation for drummers after we had a recording session with a brilliant drummer at school earlier that day! But I always had to focus my eyes back on Mr Johns with his newly formed biceps and triceps and it was simply too hard to not notice his buff upper body swaying along to the groove. You can never forget Mr Joannou I will always have a super soft spot for any bassist but the guy was enjoying himself and I enjoyed watching him too!
So all in all the show was a complete success I am so glad that I had the opportunity to catch these guys this time around….it was quite simply BLOODY STUNNING.
---
By Helena
Just got home from the silverchair show at the Enmore Theatre and wanted to say a few words.So silverchair Part 1 was on tonight and I must say it was awesome to see them again... I have missed them so! This was my 14th silverchair concert and I can honestly say I have never been to a bad silverchair concert!
This report comes with a VERY HIGHLY RECOMMENDED to go and see them if you are still able to get tickets to any of their shows!

Setlist was as follows -

Young Modern Station (Young Modern)
Low (Young Modern)
The Man Who Knew Too Much (Young Modern)
Emotion Sickness (Neon Ballroom)
Tuna In The Brine (Diorama)
Luv Your Life (Diorama)
Sleep All Day (Straight Lines B-Side)
Reflections Of A Sound (Young Modern)
Those Thieving Birds/Strange Behaviour (Young Modern)
Insomnia (Young Modern)
Straight Lines (Young Modern)
The Door (Freak Show)
Mind Reader (Young Modern)
Freak (Freak Show)
If You Keep Losing Sleep (Young Modern)
The Lever (Diorama)

So it was a fairly new mix, they played every song off Young Modern except for Waiting All Day and All Across The World I think... and I think there may have been another song in there which I forgot to add... I was enjoying myself too much to worry about that!

I was a little disappointed they didn't play much of their older stuff, not that I don't love Young Modern, but Neon Ballroom is my personal favourite album and I would have loved either Miss You Love or Ana's Song. But they wouldn't really fit with the new show so I will have to thank them for playing Emotion Sickness, and just keep my memories, and the Live from Faraway Stables DVD!

Also in the middle there, we got a lovely story about a koala and a lizard smoking a joint! It was actually pretty funny and Daniel had the whole audience captivated with his joke.

All in all I was very impressed, the band sounded fantastic, Daniel sounded fantastic, and everyone was really enjoying themselves. Daniel said it was the best crowd yet!
I can't wait for tomorrow night! 2 nights in a row of silverchair, it doesn't get much better than that!
---
Review and Photos by MARTIN Z (CyRuS)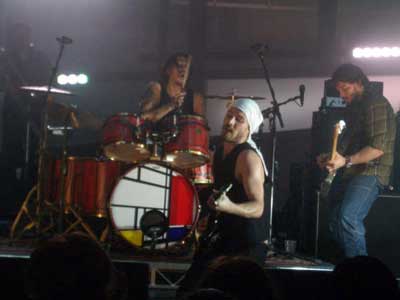 Myself and two friends arrived at the Enmore Theatre around 7:45-8. We got in straight away, and the front section was only filled up with maybe 50 people. So we got ourselves a great position about 3-4 metres from the stage in the center.

Dapplied Cities Fly came on, and provided a great opening set. With bizarre vocal lines and great effects, they sounded like a cross between Muse and Radiohead, but with a bit of a more experimental sound in the music. After they finished playing, Ben's drum kit was uncovered and the roadcrew began bringing on equipment and doing a soundcheck. The Enmore Theatre began to fill, and soon it was packed.

9:15 came round, but no sign of the Chair. The chants and applause began, but the background music continued. Then the lights went out and the Enmore Theatre quickly filled up with rapturous applause and screaming from the restless crowd. Over the top, you could hear Silverchair's opener, the sound of a train speeding up. It built up anxiety, and then the boys came on. Daniel was wearing a white shirt around his head. He started playing a little solo, adjusting his pedals and amp, and then the crowd was introduced to Young Modern Station.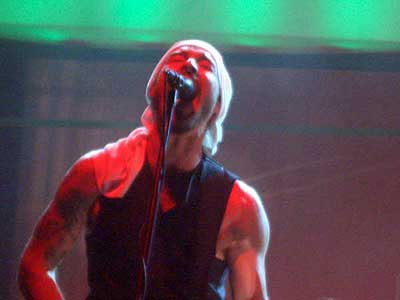 It was excellent. Daniel's vocals were at his peak, and the band was already performing tightly together. Everyone was singing along. During the bridge where Daniel sings "He dreams of tracks and choices/I think I'm hearing voices", he sang it into the pickups of his guitar so it came out through his amp, and distorted. After Young Modern Station, they played Low, which was definitely a change in their usual setlisting. Daniel's singing again was excellent. One of the more mellow songs off their new album [Young Modern], this song is truly more active live.

After Low, Ben started playing the drum beat to The Man That Knew Too Much, and Daniel started clapping, followed obviously by the excited crowd. Daniel then said "Ok, lets go Chris" and they both started playing. Again, absolutely excellent. This was my personal favourite of the 5 new songs they tested out in early 2006 at festivals such as Rock-It and The Great Escape. The brass section added a lot to this song, filling out the sound at the end. This song is definitely heavier live. Daniel then brought out his new Les Paul copy, and I immediately knew what was to come. Emotion Sickness sent shivers down my spine and the entire crowd overpowered Daniel's vocals. The band seemed to be enjoying it, as Daniel would occasionally exchange smiles with his bandmates. Very good. Of course, Without You followed. The crowd went crazy, and Daniel's guitar work and singing was amazing, Ben's pounding drums tore through as Chris' bassline held the piece together. Truly brilliant. No other way to put it. Afterwards, Daniel had a drink of a green powerade, and then finished his beer.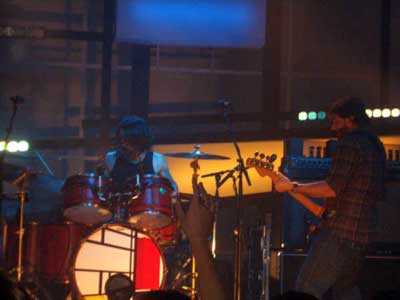 Daniel then brought out his shiny Maton semi-acoustic, and said "Ok, this song is about fish... Actually, its about dolphins... very small dolphins... about this big *puts fingers about 15 cm apart*.. dolphins the size of fish." And they started playing Tuna In The Brine. I've always wanted to see this song live in person, and finally I did. It's now better than during the Across The Night tour. I guess this is a good time to mention how great Paul's and Adam's piano/keyboard/effects work was. Paul, bouncing around as usual, added a rawness to the band, let alone this song, and made it sound dirty. Adam, seemed a bit shy at first, but eventually throughout the set, he would exchange smiles and conversations with Chris and Ben. This was also about when i started losing my voice from singing. They then started playing Luv Your Life, which is always a great song to get the crowd to sing. And they got the chance after the first chorus.

Daniel then said "Ok, this song is called Sleep All Day, and its ironically about the lack of sleep" and they started playing the Straight Lines EP b-side. This song, along with If You Keep Losing Sleep was originally a Dissociatives piece, but was a lot better as a Silverchair song. A great song. With it's crashing drums and heavy guitar riff, this could almost be mistaken as a song from the Freak Show era. They extended the last chorus and then finished. Reflections Of A Sound followed, and it was really good. The band's 2nd single is definitely a great sing-along song live, and could possibly be Young Modern's Luv Your Life. Then they played The Greatest View, which again, the brass section was excellent. After the first chorus when there's usually meant to be a little guitar solo, Daniel said something along the lines of "Chris everyone" and Chris played the rest of it on his bass. After The Greatest View, Daniel had a drink of powerade, and then started coughing and started complaining about his voice. He then said "ok, gimme a sec. Just talk amongst yourselves...wait, i know, i'm gonna tell you a story." He then turned to Ben and Paul and told em he'd need them to 'help him out', and that it would involve a 'lot of eye contact between the two'. He then told us the story about the koala, lizard and alligator. When he was talking as the lizard, he did a hilarious, high-pitched voice, which brought the crowd, which was standing and listening intently, into hysterics.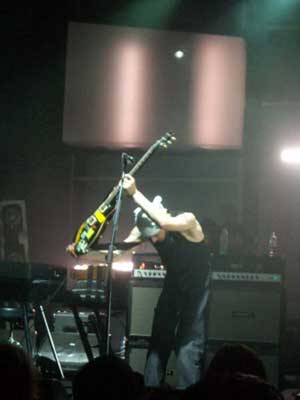 After he finished, he said "Ok, if you know the words, feel free to sing" and they started playing Those Thieving Birds/Strange Behaviour. It was really great. Everyone sang along, and then when Strange Behaviour was played, the crowd was jumping. SB does sound a bit different live, but still great nonetheless. They then played Don't Wanna Be The One, which was definitely the best version i've heard of it so far. Very well sung, and again, i have to applaud the job the brass section did in this song. Ben was singing, but i couldn't really hear him.

Daniel spoke for a bit, and then said "Alright, go Ben", and Ben did a drum solo which everyone later applauded. The drum solo lead into Insomnia. It sounds completely different live in my opinion, and a lot better too. Ben did an awesome drum fill mid song which was pointed out by Daniel. Really good song. A lot of good effects work from Daniel.

Then Daniel brought the SG out, and said "Ok, this song is now an Aussie classic." It was indeed Straight Lines, and Daniel asked everyone to sing as he was 'losing his voice'. And everyone did just that. Extremely loud. I think Daniel sang it very well. Afterwards, out came a big (maybe 2 Litre) Jim Beam bottle, and Daniel made a statement about how he had won the Best Frontman award at this year's Jack Awards. The bottle was already half gone, and then Daniel gave it to Paul, and then to Ben, who both had a drink.

Afterwards, Daniel said he was gonna take us back to 1997, and then started playing the intro to The Door, but stopped, told us to wait, and went and muttered something to Ben, then came back and restarted. His guitar solo was awesome, and Chris' playing was exceptionally good in this song. Daniel's teeth-solo was again something that made the crowd stand and stare. Also a great photo opportunity. Afterwards, they played Mind Reader. Daniel played the guitar intro for a while, before stopping and Ben started playing the drum beat. Daniel then told us to scream, and then they all started playing.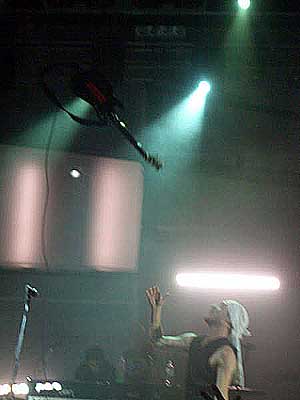 After Mind Reader, he got the Les Paul copy out again. Daniel started mucking around and going crazy on the guitar, and he was hoping to sustain the note he was playing and play around with his effects, but the guitar just stopped, and he stood there for about 15 seconds without moving, just on purpose, staring down his pedals. The crowd laughed. He then waved his arm as if rejected, and started playing Freak. Everyone immediately moshed. It was great. Everyone sang along, and I can't even remember what Daniel's guitar solo was like as the crowd was so loud. They then went off stage and everyone started cheering for more.

About 5 minutes later, they came back on, and Daniel thanked everyone, then Paul started playing the intro to If You Keep Losing Sleep. It's such a fun song. Daniel just danced along to it, and during the bridge, sang into his guitar's pickups as he had done during Young Modern Station and during IYKLS at the Young Modern Album Launch. They finished playing, and then Daniel started playing the intro again, and then said "Ok, lets go Ben", but Ben never came in, so they stopped, and then restarted, this time with Ben.

They finished and Daniel came out with his PRS. He started singing From The Bottom Of My Broken Heart, and then they played The Lever. The drumming in this song ripped through the Enmore Theatre, and both Ben and Chris got a little solo in the song. At the end, Daniel chucked his guitar about 3-4 metres in the air, and when he went to catch it, he lost grip and it crashed to the ground. He then started playing with his effects, and walked off stage. Bailey Holloway came and picked up Daniel's guitar, and what we saw was a very sad sight. The guitar's neck had snapped off and was pretty much just hanging off the body. So there goes his 2nd guitar.