28-04-2007
The Tivoli - Brisbane, Australia
By Wilson
Photos by Kelli

Those Thieving Bourbons

Time to see Silverchair at the Tivoli on their opening nights for the Young Modern album. Dappled Cities opened the show to a surprising cheer. Each time the house music was finished playing, an anticipated roar came from the crowd for someone to enter the stage. A lazy mans comparison to the Dapples would be calling them the Aussie Arcade Fire. There are similarities with dancey rhythms of tremored vocals. It's a pretty joyous set actually, they were visibly happy the crowd were enjoying it. Lots of interspersed vocal playoffs by the two singers. Bird calls, all the works.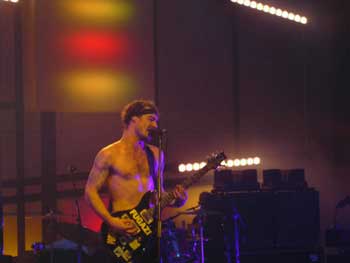 In between sets involve Koyaanisqatsi on the video projection screens with house music over the top and lots of pushing and shoving in the crowd. Lots.

The music starts to get louder as the lights get dimmer while the crowd gets rowdier. We see a label-forward large bottle of Jim Beam sitting on the amps, gig fuel. The back curtain is raised to show a large Young Modern style background all lit up. But we are taken back in time to the Ballroom days with Emotion Sickness. It sounds large and stripped back. By the time the song reaches the middle the crowd doesn't need any cues to start singing 'Get Up!'. There's a little guitar noodling by Dan in the middle too. A few people stuck in the early 90's make attempts to push into the crowd and start moshing.

We get put forward to the next era of songs in the form of Without You. It sounds a lot more triumphant now than in the past. At its end, the crowd loves the new delivery of the guitar parts. I think Paul Mac is too.

Present day arrives 10 minutes late to the platform with Young Modern Station. This song sounds dirty live with Dan's Telecaster and Chris' bass playing under each other. I noticed Ben got a lot more into this song than the previous ones. Sweet kit by the way.

Daniels asks if we are here for a party then swigs some fresh bourbon. Lead by example I guess.

We get some high pitched whammy pedal squeals which forms into the intro to Reflections of a Sound. It's a song that sounds great even without the layered vocals of the album. Mac uses his bouncy chair in full motion during the loudest parts in the song.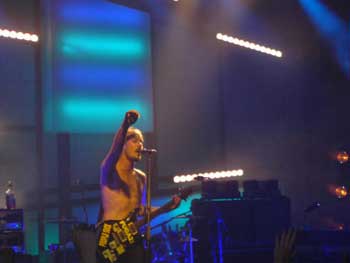 A silver glitter acoustic gets strapped on before we are told the next song is about a school of fish, not a descriptive noun, an actual classroom with fish in it. Tuna in the Brine sounds much the same as it has in the past, but in this different setting it's less rock opera than before. More bourbon intake too. Daniel passes the bottle for a swig by all band members

Luv Your Life, like Tuna, doesn't differ much. But the crowd sings near perfect and the doo do doo are done only by the crowd.

The Man That Drank Too Much is up next and has more dirty guitar and bass parts. Ben changes up his drumming in it a little bit too, plus some acrobatic cymbal work on top. ''This sounds really unprofessional, by I really gotta take a piss, you mind if I bolt for a sec?'' An exit stage right for the singer means Mac, Ben and Chris get to start a jam going that sounds nice and funky to hide the sounds of toilets flushing.

The first 2 bars of Low were played but halted cause DJ played the wrong section of the song. After struggling to fight of laughter for the first 30 seconds of the redone song it finally starts to take shape. Ben and Chris seems to have the song really locked in the beat. One of the best songs of the night.

Some sing alongs now with Greatest View and Ana's song. The latter was chopped up and changed a bit which was nice.

The Door gets back to its roots by leaving the stage as a three piece. No keyboards at all.

'It's No.1 bitch' Straight Lines sounds more organic without the studio wizardry. Of course it brought about the biggest reaction. Never heard so many off key 'oohhhoos' coming from behind me in my life.

Mind Reader brings out the drunk side with lots of pedal tom foolery and some mic sucking which makes the crowd need a shower. We are supposed to be partying, so we get handclap cues. I think we've been introduced to the full band 3 times now as well. It's funny watching Dan sing into his guitar pickups and eat the strings.

I can see the band trying to hide the Beam now, and Dan is pretty loose, but somehow All Across the World comes out as being the best song of the night for me. Mac and the other keyboardist bring new spices to the rack, and Ben seems wide eyed making sure the song doesn't collapse. Apparently Dan and Ben are gay as well.

More hand claps and the mosh section gets to come out with Freak, the riff is buried under layers of pedal effects and sounds comical. Still entertaining.

Insomnia brings out still more hand clap intros and some crowd pandering 'Tivoli is the best venue in the world', also some piano endurance by Mac and the middle section is left hanging for minutes. To finish the marathon the guitar bares the brunt of some catch and drops and loud dings. The crowd is definitely demanding more though as the walk off stage.

If You Keep Drinking Heaps starts up as we get an encore. It sounds cool as hell and marching drums section is one of the best parts of the festivities. The end is played out 4 times over as it slowly gets muddier and slower, each time an applause, then straight back into it. I think I saw Dan roll over Mac in his chair. If you were in the front row you probably caught a guitar in the face too.

A good party I must say. I can't remember the last time I saw a band be so open about being fucked up. Normally the hide that stuff and you think, gee that person is strange. I think they suit the small crowd better than the big arena's. Here's hoping they make attempts at doing it again one day.

Emotion Sickness
Without You
Young Modern Station
Reflections of a Sound
Tuna in the Brine
Luv Your Life
The Man That Knew Too Much
Low
The Greatest View
Ana's Song
The Door
Straight Lines
Mind Reader
All Across the World
Freak
Insomnia
If You Keep Losing Sleep