06-05-2007
Metropolis - Fremantle, Australia
By Renae
Photos by Beau
We arrived at Metropolis Fremantle at about 5:30pm. There were 4 people in line at this stage so we jumped in behind them and settled in for the next few hours. I was surprised how few people came early but I wasn't complaining! The doors opened at 8pm sharp and once through the front doors we made a beeline for the second level to try and get a good position on the balcony. We managed to get on the lower balcony right in the centre with seats which was an awesome spot.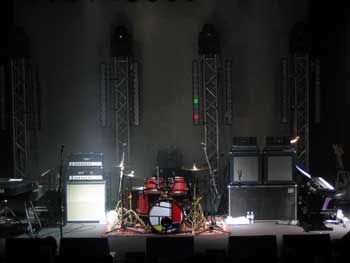 Dappled Cities came on at 8:30pm and played for half an hour. They weren't too bad. It was the first time I had seen or heard them. They got better as the set progressed. I think I need a few listens to let them grow on me. Will be interested to see what they are like for the second night.

At 9:30pm the lights dimmed and the intro music for Silverchair started. The sound of the train chugging along was so loud and as people started to scream and stomp their feet, it felt as though the whole room was vibrating. The band came on stage and launched into Young Modern Station and the crowd erupted. The band then played Low and The Man That Knew Too Much. The last time the band played in Perth at Rock It the crowd were really negative yelling abuse at the band for not playing tracks off Frogstomp. The crowd tonight was a far cry from that - they were singing along to all the new songs as well as the old and were hooked on the every note. It was a great atmosphere!

Emotion Sickness came next followed by Without You, Tuna in the Brine and Luv Your Life. No matter how many times I hear it, Tuna gives me goose bumps every time. It was an awesome rendition and remains one of my favourite songs of all time.

Daniel introduced the next song as a b-side that they didn't play too often and then played Sleep All Day. Reflections of a Sound was next followed by The Greatest View which the crowd went mad for - cheering and singing along to very word. Daniel told a joke before this about the koala and the little lizard getting high. He thought it was hilarious and got annoyed when people were interrupting as he said the joke was "genius"!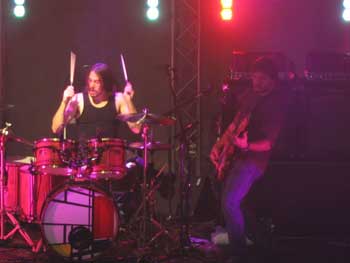 Daniel told us that he normally apologises before playing the next song but he wasn't going to apologise for playing it tonight as it was their show and they can play whatever the fuck they want. He said to Paul Mac that he felt nervous playing it and asked Paul whether he felt the same. Paul sad he was nervous also. They then played Those Thieving Birds/Strange Behaviour/Those Thieving Birds which was just perfect. This song is on par with Tuna for me and I got goose bumps again. I was so so happy to hear this song live. Pure perfection.

Their Midnight Oil cover "Don't wannabe the one" was next with Ben singing backup vocals followed by Insomnia. Straight Lines was up next which got the crowd going again with everyone's hands in the air and singing along with Daniel.

The Door was next to which Daniel said everyone had to get up and dance and they kept the momentum going by following with Mind Reader and Freak which both went off and had the crowd hooked. Daniel encouraged the crowd to sing long with the "body and soul" parts which were repeated a few extra times than what is in the standard version. The band then left the stage and the crowd started chanting for Siverchair to come back out.

Even though All Across The World was on the set list the band came back on an skipped over it and launched into If You Keep Losing Sleep which was fantastic. This is one of my favourite songs off the new album and live it just has so much energy. The crowd participated in the "do do do" bits and people were dancing and generally enjoying the vibe coming off the stage. The Lever finished the night with a lot of grunt and power and left the crowd moshing and dancing around. How someone can mosh in hot red stilettos is beyond me but at least the girl was having a great time :)

The gig was fantastic. The band were in high spirits and the audience were energetic and dedicated. Silverchair had us hooked on every note and Daniel had the crowd in the palm of his hand. Awesome show. Hope tonight is just as good!

SETLIST: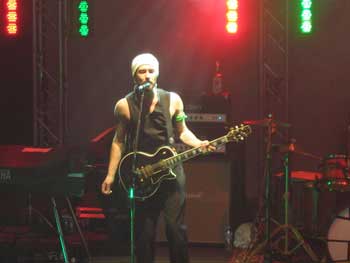 YOUNG MODERN STATION
LOW
THE MAN THAT KNEW TOO MUCH
WITHOUT YOU
EMOTION SICKNESS
REFLECTIONS OF A SOUND
SLEEP ALL DAY
THOSE THIEVING BIRDS PT 1/STRANGE BEHAVIOUR/THOSE THIEVING BIRDS PT 2
TUNA IN THE BRINE
LUV YOUR LIFE
THE GREATEST VIEW
STRAIGHT LINES
INSOMNIA
DON'T WANNA BE THE ONE
MIND READER
THE DOOR
FREAK

IF YOU KEEP LOSING SLEEP
THE LEVER