02-05-2010
Murray Sports Complex - Groovin' the Moo - Townsville, Australia
By RENAE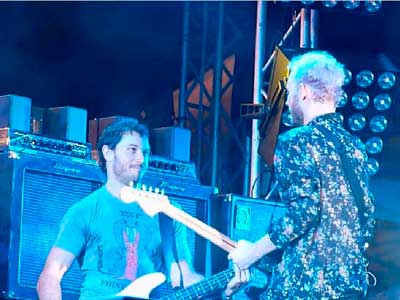 SETLIST

YOUNG MODERN STATION
EMOTION SICKNESS
WITHOUT YOU
ISRAEL'S SON
16
THE DOOR
ANA'S SONG
MACHINA COLLECTA
THE GREATEST VIEW
IF YOU KEEP LOSING SLEEP
STRAIGHT LINES
MIND READER
FREAK

Sunday the 2nd was an early morning for us with a 4:30am start heading to the airport for our flight to Townsville. Coming from Bendigo to Townsville couldn't be more different. Bendigo was freezing and getting off the place in Townsville, we were faced with warm, sticky heat. Running on 2 hours sleep we decided to have a quick nap before heading to the festival otherwise we would have been curled up sleeping in a ball in some corner.

We headed in via bus at about 4pm and walking through the gates at the Townsville show, the 2 festivals so far couldn't be further apart. The Townsville show was a lot bigger, a lot further spread out and instead of being rugged up, everyone was in shorts and t shirts! There was also an unusually high number of people walking around wearing very little but a lot of body paint! Don't ask!

After grabbing some food we headed in to the main stage area to get our positioning for Silverchair. The crowd was a lot larger than Bendigo and a lot rougher. I found a spot on the side of the stage near a fence which I figured I could clutch on to if there was a big push later on in the evening.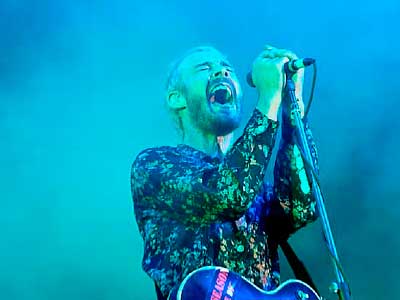 We watched a few of the other bands but the sound was really loud and the bass up far too high. So much so that no matter where we stood my eardrums felt like they were going to pop and my heart explode out of my chest. Thankfully this issue was fixed before Silverchair came on however there were still a few sound issues at the start of the set.

Hearing the Star Wars Imperial March start again and feeling the excitement in the air as everyone anticipated the band walking on stage is one of my favourite feelings. It's just so electric. The band stepped out on stage and crowd went wild.

The set list in Townsville was exactly the same as in Bendigo however there were a few differences which I'll talk about below. As I said earlier there were a few sound issues at the start of the set and I don't think Daniel's guitar was loud enough. There were a few times it sounded like Daniel's microphone cut out also but thankfully these appeared to be rectified quickly.

There was still a level of excitement between the band when playing the new songs and I must say that I enjoyed them a whole lot more tonight. I believe Daniel may have altered a lyric in '16' too as I didn't hear the risqué lyric tonight. I also don't think the effect on Daniel's voice in both of the new songs was as loud as it was in Bendigo. '16' has been stuck in my head for the past 48 hours and I am now completely obsessed with this song. It is a very different direction for the band but I like it. After 'Machina Collecta' Daniel said it was great to be playing again and they were going to keep playing until they got dragged off. He said they were going to play some Take That songs. Ben then started drumming a beat and Daniel just shook his head and said "I have no idea what he's doing!"

Daniel's commentary and comments weren't as full on as in Bendigo and his calls for the crowd chanting were cut down slightly from the previous evening. Although both Daniel and other lead singers made reference to the fact that the Townsville crowd was a lot louder than the Bendigo one which seemed to please the bands. From a punter's point of view, there was definitely a huge difference in the crowd and I hadn't noticed how subdued the Bendigo crowd was until experiencing Townsville! Not a bad thing, just different. One thing Daniel did ask the crowd to do was for the right hand side of the crowd to shout "Ho" and the left hand side to chant "Mo". He then said that was "the gayest thing we've ever said!"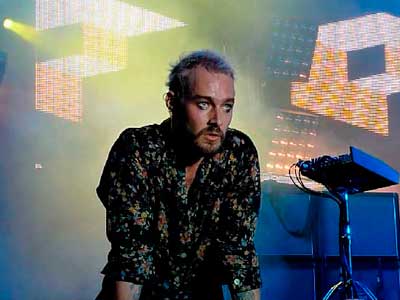 Overall, the set appeared to be a lot tighter tonight and I enjoyed the actual show more. Everything just seemed to flow and fit together a lot more than Bendigo for all the songs. The crowd reaction to the old favourites was as expected and the sing alongs continued tonight for 'Without You', 'The Door', 'Freak' and 'Israel's Son'.

Towards the end of the set, just after 'If You Keep Losing Sleep', Daniel advised us that he has cut his finger nail and it really hurts. He asked the crowd to say "Awwwwww". It must have really hurt as he kept flicking his hand in pain and during 'Mind Reader' he actually lay on the floor and Chris went and pulled him up. He then lay his guitar down and danced around for about a minute and then sat on the front of the stage looking at the crowd doing a shimmy with his shoulders! After that he picked up his guitar and continued on again.

After the show we had a transport debacle to get back to our hotel and then crashed for some much needed sleep!

Next stop... Maitland!