Notice
: Undefined index: image_link in
/home/chairpag/public_html/app/views/headlines/current.thtml
on line
19
27-03-2015
Silverchair's debut album 'Frogstomp' has been remastered, expanded and reissued to mark the 20th anniversary of its release on March 27, 1995.
'Frogstomp' was recorded when Daniel Johns, Ben Gillies and Chris Joannou were 14 years old. The first single 'Tomorrow' was a number one song in Australia for six weeks from 24 October, 1994. 'Frogstomp' became the first debut act by an Australian group to debut at number one.
'Frogstomp' also reached no 9 in the USA for Silverchair and no. 49 in the UK. In America, it sold over 2 million copies.
The new edition of 'Frogstomp' is available as an expanded CD edition or collectors 2CD/DVD deluxe edition featuring a live concert from the Cambridge Hotel in Newcastle from 1995.
To coincide with the 'Frogstomp' 20th anniversary, here's the original Silverchair feature that appeared in Australia's Rolling Stone Magazine in April 1996.
It is a cold, cloudy and generally cheerless night in down-town Detroit. But for a brief moment, from the sidewalk outside St. Andrew's Hall, you can actually see a full moon – the bright white flash of 16-year-old Silverchair drummer Ben Gillies' naked ass stuffed through an open tour bus window.
Gillies' vertical smile is greeted with delighted shrieks and approving hoots from the shivering teenage girls and sweat-drenched mosher dudes who have been clustered around the bus since Silverchair wrapped up their feedback-laden encore of "Israel's Son" nearly an hour ago, but that's nothing compared to the celebratory testosterone now raging inside the vehicle.
"All right! Way to go, Gillies! The big brown eye!" raves the band's 16-year-old singer and guitarist, Daniel Johns. He's still breathless from the Australian trio's dash from the St. Andrew's backstage door, but his deceptively angelic features are bright with impish glee. Bassist Chris Joannou, who is also 16 and has his long, curly brown hair tucked up under a wool cap emblazoned with the logo of the band Korn, doubles over with laughter. The band's manager, John Watson, just rolls his eyes in bemused resignation while David Gillies, Ben's father, is spared the entire experience. He and the other Silverchair dads, Greg Johns and David Joannou, are still in the venue, packing up the band's gear. When they accompany their sons on tour, the elders double as guardians and roadies.
For full feature story go here.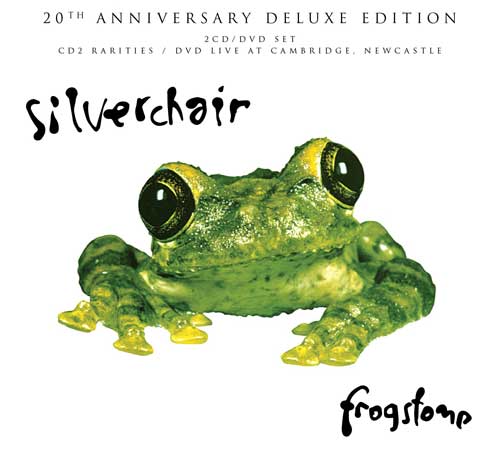 Silverchair – Frogstomp
Disc 1
Israel's Son
Tomorrow
Faultline
Pure Massacre
Shade
Leave Me Out
Suicidal Dream
Madman
Undecided
Cicada
Findaway
Disc 2
Tomorrow (from Tomorrow EP)
Acid Rain (from Tomorrow EP)
Blind (from Tomorrow EP)
Stoned (from Tomorrow EP)
Madman (vocal version)
Madman (Live At The Cambridge)
Blind (Live At The Cambridge)
Tomorrow (Live At The Cambridge)
Faultline (Live At The Cambridge)
Pure Massacre (Live At The Cambridge