11-08-2008
Silverchair's "Straight Lines" music video is available for online voting in the Best Rock category for MTV's Video Music Awards. This year MTV is letting fans vote online to determine which videos get nominated.
Voting runs until Wednesday at 11am/EST.
If you'd like to see "Straight Lines" make the final cut please vote now.
30-06-2008
The above documentary takes you inside the 2008 APRA Awards. Prior to scooping the pool at the Awards Silverchair's Daniel Johns sat down with Chat Chat for an exclusive catch up!

Don't miss it tonight at 8.30pm on Music Max.
17-06-2008
Daniel Johns made history at the 2008 APRA Awards held in Sydney last night when he won the prestigious APRA "Songwriter of the Year" award.

This latest achievement makes the Silverchair frontman the first songwriter in the 26 year history of the APRA Awards to receive this honour on three separate occasions (he also won in 1995 with bandmate Ben Gillies and then in 2003 for his work on "Diorama").

In addition to winning "Songwriter of the Year" Daniel's composition "Straight Lines" (which he co-wrote with The Presets' Julian Hamilton) was named the APRA "Song of the Year" and the "Most Played Australian Work".

"It's a serious honor to be recognized by your peers in the music community" Daniel Johns said "Writing songs means everything to me so to receive these awards for the art of songwriting feels particularly special."

These acknowledgements by APRA and its members cap an extraordinary year for Daniel and his Silverchair bandmates. After a lengthy hiatus the group returned in 2007 with their fifth consecutive number 1 charting album "Young Modern". The disc was among the most acclaimed of the group's career. It went on to be certified triple platinum and swept last year's ARIA Awards.

After last night Daniel Johns now has the unprecedented honour of winning both more APRA Awards AND more ARIA Awards than any other artist in history. He recently turned 29 years old.

After touring non-stop into early 2008, Silverchair is currently on a well-earned break. The band hopes to return to the studio next year.
13-06-2008
Silverchair's Daniel Johns and The Sleepy Jackson's Luke Steele have been writing and recording songs together over the past few months.

The long time friends and sometimes collaborators have no current plans for a release.

Make sure you watch this space for further updates as they come to hand.
21-05-2008
Nominations for the 2008 APRA Music Awards were announced in Sydney earlier today with Silverchair's Daniel Johns scoring nominations in both of the major categories.

"Straight Lines" is up for the prestigious APRA Song of the Year Award and Most Played Australian Work.

"It's an honour to be thought of in this way by APRA and its members" Daniel Johns said. "Songwriting is a really important part of my life so getting this kind of recognition from your Australian peers feels pretty good."

Past winners of the APRA Song of the Year award have included Missy Higgins for "Scar", Neil and Tim Finn for "Four Seasons in One Day" and Kasey Chambers for "Not Pretty Enough". It is Australia's biggest peer-voted music award with 30,000 APRA members deciding the winner.

While Daniel has written and co-written some classic Australian tunes none have ever been voted APRA Song of The Year. However, he has twice been named APRA Songwriter of the Year (in 1995 with bandmate Ben Gillies and in 2003 for his work on "Diorama"). The Songwriter of the Year Award is chosen by the APRA board. Nominees are not announced in advance for that category – a winner is simply announced on the night of the Awards ceremony.

This most recent acknowledgement by APRA caps off another extraordinary year for Silverchair. After a lengthy hiatus the band returned in 2007 with their fifth consecutive number 1 charting album "Young Modern". The disc was among the most acclaimed of the group's career. It went on to be certified triple platinum and swept last year's ARIA Awards.

The 2008 APRA Music Awards will be held in Sydney on Monday June 16.
24-04-2008
U2's the Edge has announced the Icons of Music Sale II to benefit Music Rising. This second annual auction event, hosted by Julien's Auctions (www.juliensauctions.com) is to be held on Saturday, May 31, 2008 at Hard Rock Café New York in Times Square. It will offer one of the most significant collections of music memorabilia from many of music's greatest legends with proceeds benefiting Music Rising (www.musicrising.org).
Music Rising is a campaign co-founded by U2's the Edge, legendary producer Bob Ezrin and Gibson Guitar Chairman and CEO Henry Juszkiewicz in 2005 to aid musicians of the Gulf Coast Region in regaining their livelihood after the devastation of Hurricanes Katrina and Rita.

Silverchair has autographed and donated to the auction the guitar Daniel burned onstage in Newcastle at the final Across The Great Divide show.

For more information check out www.musicrising.org and www.juliensauctions.com
09-04-2008
Well, here's what you're missing. These items have just gone out in the once-a-year 2008 pack and will continue to be available to all who join the LAS during 2008 while stocks last: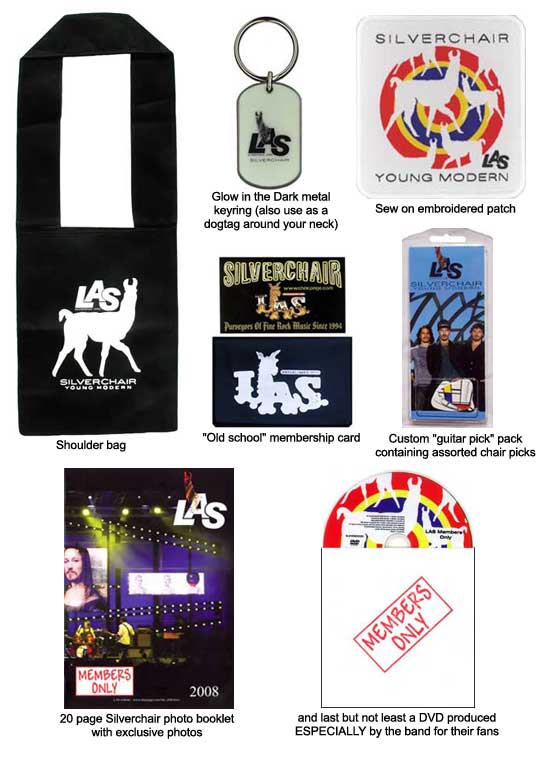 Note - These images are not to scale
Of course the annual mail-out is in addition to all the other on-line benefits.
ALL THIS FOR JUST $25 WITHIN AUSTRALIA AND $30 OUTSIDE AUSTRALIA.
Check out the full story here.
04-04-2008
At the end of last year Silverchair stopped by to chat to the lovely folks at JBTV in Chicago. The podcast is now available for you to download for FREE!
All you have to do is hit iTunes now and do a search for JBTV to check out all 24 minutes of the Silverchair podcast. You can even leave your comments there as well.

Happy watching!
14-03-2008
MTV announced this week that Silverchair have been nominated for the Australian Artist Music Award. The awards take place in Sydney on April 26th and broadcast live on MTV.
You can vote for SILVERCHAIR in this category now. Head to www.mtvawards.com.au/quick_vote.aspx to place your vote and you could win yourself some awesome prizes.